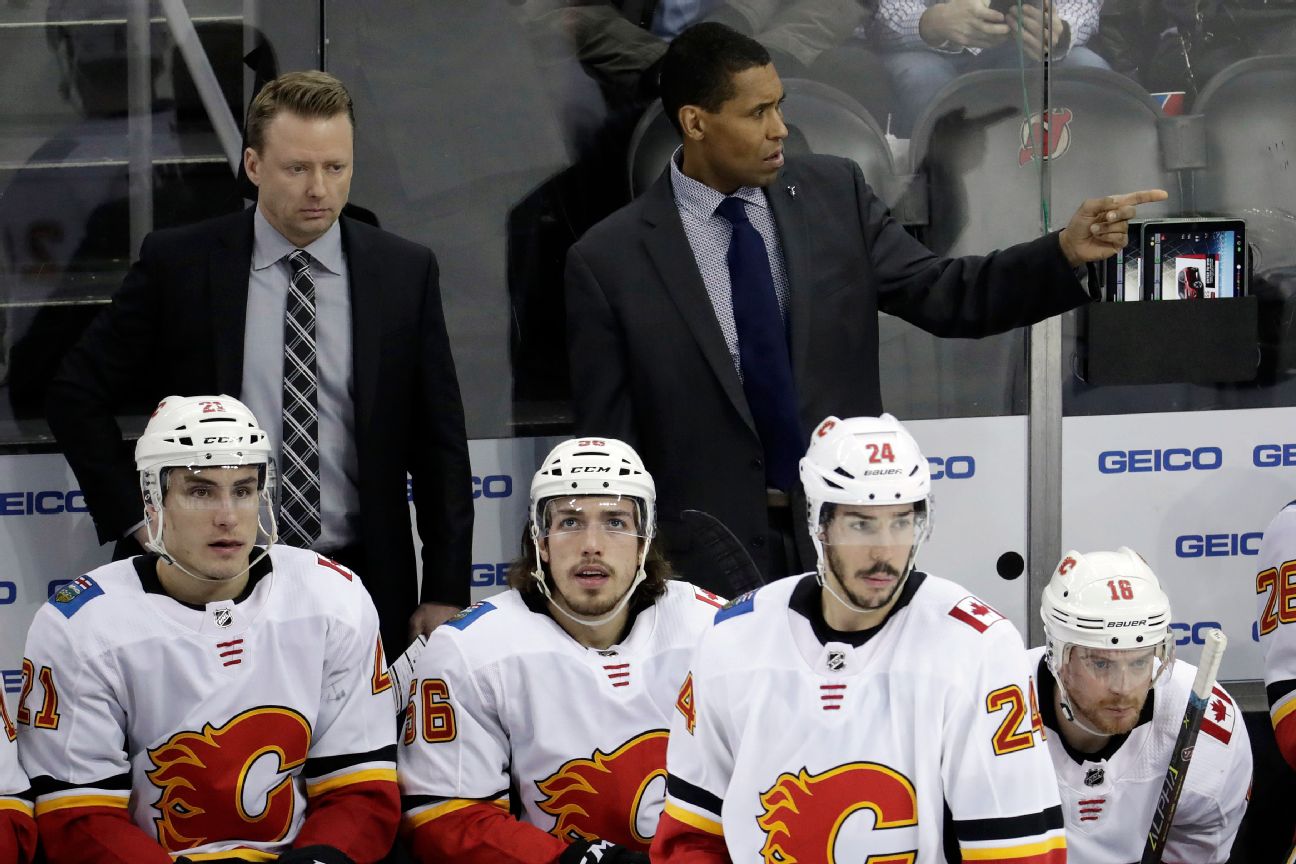 Paul Jerrard, one of the few Black assistant coaches in the NHL during his three stints in the league over the past two decades, has died, the University of Nebraska-Omaha announced Thursday. He was 57.
An athletic department spokesperson said Jerrard's wife informed the school he died Wednesday at a hospital in Omaha. Jerrard spent the past five seasons on Omaha coach Mike Gabinet's staff.
Jerrard spent two seasons as an assistant with the NHL's Calgary Flames from 2016 to '18 and with the Dallas Stars from 2011 to '13 and one with the Colorado Avalanche in 2002–03. During his time with the Flames, Jerrard was the only Black assistant coach in the league.
There are currently only two Black assistants in the NHL: Tampa Bay Lightning goaltending coach Frantz Jean and video coach Nigel Kirwan.
Flames general manager Brad Treliving, who crossed paths with Jerrard when they were playing in the minors and hired him to coach under Glen Gulutzan in 2016, called the Winnipeg, Manitoba native a genuine person and a great listener whose attention to cultivating personal relationships showed through in his work.
"He was compassionate; he was firm when he needed to be," Treliving said by phone Thursday. "(Gulutzan) talked about his ability to teach, his ability to connect with players. Players trusted him, and you could see it."
In between his NHL jobs, Jerrard was an assistant for Hershey, Iowa, Texas and Utica in the American Hockey League and before that worked for Lowell of the AHL and at Lake Superior State University, where he played from 1983 to '87.
Drafted in the ninth round by the New York Rangers in 1983, Jerrard spent most of his playing career as a defenseman in the minors. He played in five NHL games with the Minnesota North Stars during the 1988–89 season and immediately went into coaching after hanging up his skates.
Gabinet, in a statement released by the Omaha athletics department, said Jerrard had "quietly been fighting a long-term battle with cancer."
"Our program will be forever indebted to PJ for his countless positive impact," said Gabinet, who had known Jerrard since playing for him with Iowa of the AHL in 2005–06. "PJ attacked each day with a team-first attitude, vibrant enthusiasm, and an unmatched willingness to help grow and develop our young men. … There were no small jobs for PJ, and he never had a bad day. He made the people around him better, and we will forever miss his presence in our locker rooms and lives."
Jerrard was an active member of the NHL Coaches' Association BIPOC Coaches Program. The coaches' association, in a statement sent by president Lindsay Pennal, called Jerrard an incredible coach and an even better human being.
"His commitment to the sport and helping his players and everyone around him improve was unmatched," the NHLCA said. "Paul generously committed his time to mentoring the younger coaches in our program, sharing advice and wisdom from his extensive hockey career."
During a 2018 interview with The Associated Press about more minority representation among coaches and officials in hockey, Jerrard said he hoped kids seeing more people of color on the ice playing or officiating or behind the bench coaching shows that "if they're skilled, driven and passionate, there's an opportunity for them."
"I'm just another coach who's trying to do a good job in the league and stay in the league," Jerrard said at the time. "I guess I am now in a little bit of a position of a role model, but my drive to be a role model isn't due to the color of my skin. It's just the way I wanted to carry myself as a human being." , the way I want to be looked at: doing the right thing and working hard."