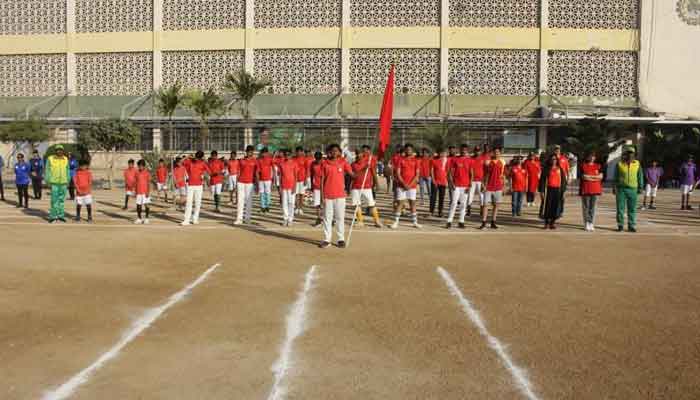 St Patrick's High School celebrated sports and sportsman spirit by organizing the Sports Extravaganza 2023 in Karachi with students participating in different games.
During the event, chief guest professor Dr Farhan Essa made his way into his alma mater and was greeted by the Rector Fr Mario Rodrigues, principal Anthony D'Silva and deputy principal Christine Martins.
This was followed by the school scouts who presented the guard of honour. Students from various sections presented the chief guest and his mother Dr Sabbiah Essa with garlands and bouquets of flowers, welcoming the guests to the school.
Dr Farhan was then called to unfurl the national flag while the choristers sang the national anthem and the institute's song. He then saluted the contingents of the five houses—Lobo, Cordeiro, Henderson, Raymond and Dalmatian.
Ghazanfar, who is last year's super senior champion lit the Olympic flame with the torch during the opening of the games.
Dr Farhan, while thanking for the invitation as the event concluded, announced the need of setting up an endowment fund for the school and requested all Patricians to contribute.
He also said that he would love to work with the administration to build up this school once again.
Later, the Archdiocese of Karachi's archbishop Benny Travas congratulated the administration of the school for a well-planned Sports Extravaganza 2023. He reminded the students to be bearers of peace and love which was the need of the time in the world and Pakistan.
Rector Fr Mario said that the event was possible because of the full cooperation he received from the management, the staff and the students of the school.
In the end, the House Champions was given to Dalmatius House which scored 163 points, and the best athlete of the tournament was awarded to Mohammad Mustafa of Raymond house who scored a total of 18 points.
The closing ceremony was performed by the chief guest.