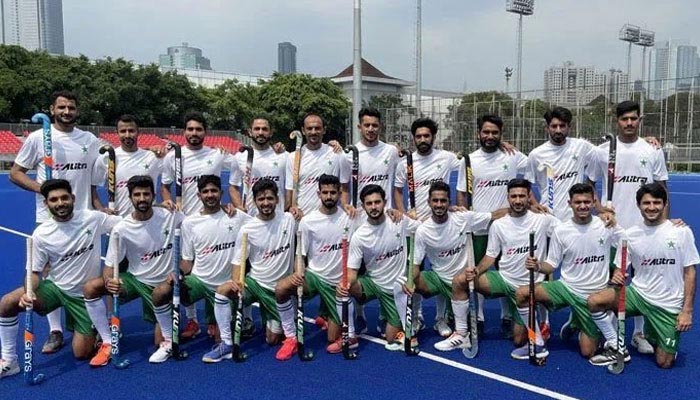 Pakistan didn't finish among top four spots in Asia Cup.
Sixteen countries are competing in the world cup for the first time.
India is hosting the world cup twice in a row.
---
ISLAMABAD: Pakistan, due to their inability to finish among the top four spots in the Asia Cup, will miss the Federation Internationale de Hockey (FIH) Men's Hockey World Cup 2023.
The four leading Asian hockey-playing nations — India, Japan, Malaysia, and Korea — will be seen in action in the 16-team event, starting in Indian cities, Bhubaneswar and Rourkela, within nine-day time.
For the first time, sixteen countries are competing in the Hockey World Cup that earlier was restricted to just 12 countries.
Yet, three-time world champions Pakistan who are ranked 17th in the world are missing the four-yearly action.
"It is really unfortunate that a country like Pakistan is not part of the 16-team World Cup. We cannot get an easier opportunity of qualifying for the event. It was just a cakewalk, yet we missed it. As a former world champion, I feel really bad and depressed not to see Pakistan as one of the contesting teams in India," said Khawaja Junaid, one of the members of the World Cup 1994 winning team.
"I am really concerned about the Pakistan hockey players who could have gained necessary exposure by playing against the world's best teams," he said.
For the first time, the FIH Men's World Cup will be hosted by a nation twice in a row as the 2018 edition was held in the state of India as well. The Indian city also hosted the FIH Hockey Men's Junior World Cup in 2021 and the FIH Hockey Pro League over the past 4 years, following the FIH Hockey Men's World Cup in 2018.
Both Bhubaneswar and Rourkela will host matches on the opening day of the FIH Hockey Men's World Cup 2023.
The first match on January 13 will be played at the Kalinga stadium in Bhubaneswar, where 2016 Olympic Gold medalists Argentina will take on reigning African Champions, and winners of the recent inaugural edition of the FIH Hockey Men's Nations Cup: South Africa.
This will be followed by more Pool-A action between World No 1 Australia and the rapidly improving French team.