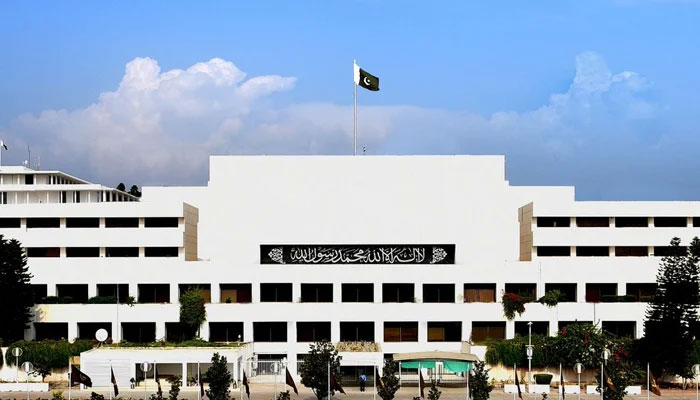 Lawmakers discuss issues especially terrorism in joint sitting.
Senator Mushtaq says terror incidents rampant in KP.
Also calls upon speaker to issue production order of Ali Wazir.
---
The Joint Sitting of the Parliament undertook a discussion on various issues including law and order and terrorism, economic policy, Jammu and Kashmir Issue, respect for national institutions, China-Pakistan-Economic-Corridor, population explosion, climate change impact and foreign policy of thecountry.
The discussion is aimed at creating awareness and building consensus on these issues, especially terrorism.
Taking part in the debate, Senator Mushtaq Ahmed Khan stated that incidents of terrorism are rampant in Khyber Pakhtunkhwa and authorities concerned should take notice of this to protect the life and liberty of the people of the province. He, however, said the provincial police have rendered unmatched sacrifice in the fight against terrorism, despite a lack of resources, equipment and training. He said Islamic scholars, political forces and the general public of Khyber Pakhtunkhwa have strongly rejected terrorists and their ideology.
Mushtaq Ahmed Khan also urged the speaker to issue the production order of detained MNA Ali Wazir.
In her words, Shazia Marri said, "Economic development requires peace and stability in the country, for which we must eliminate terrorism completely." She said that an in-camera session, seeking feedback from security agencies on countering terrorism can be convened to evolve a comprehensive policy to curb militancy in the country.
Irfan Siddiqui said that Islam preaches peace and terrorists have nothing to do with the religion and morality. He suggested constituting a committee of both Houses to devise a strategy to deal with the menace of terrorism.
Senator Haji Hidayatullah Khan criticized the previous PTI government in Khyber Pakhtunkhwa for allowing resettlement of terrorist elements in the province. He said that around four hundred billion rupees were provided to the provincial government of PTI but it wasted funds elsewhere instead of upgrading the police force to curb militancy.
Mutfi Abdul Shakoor alleged that PTI chief Imran Khan and his cronies have committed economic terrorism in the country by damaging the international relations of Pakistan with friendly countries. He said that Imran Khan had claimed that the United States was behind his ouster from power but now he was exonerating Washington of any such conspiracy. He said Imran Khan should be held responsible for economic terrorism in the country.
Those who also spoke on the occasion included Mohammad Aslam Bhootani and Kishwar Zehra.
The Joint Sitting of Parliament will meet again today at 4 pm.