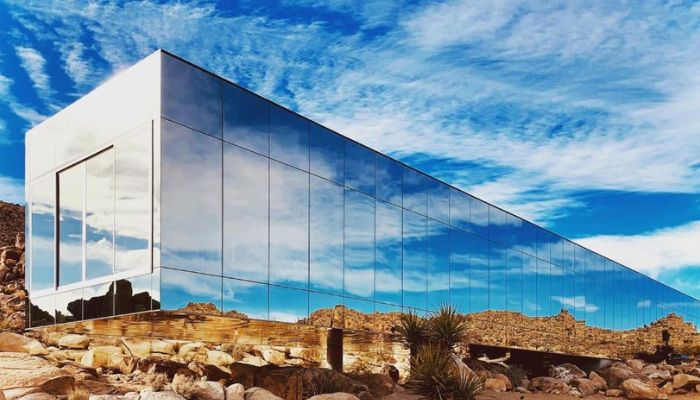 You might have wanted to vanish amid the stressors of life but have you ever thought of living in an invisible house?
One, near Joshua Tree, which features a glass facade and mimics the surrounding scenery, is being sold for $18 million.
The 5,490-square-foot building in the Mojave Desert is now almost an Instagram celebrity in its own right with its own account with 33,000 followers.
It was featured on Netflix's The Most Amazing Vacation Rentals and visited by stars like Lizzo, Diplo, and Demi Lovato, as well as countless influencers.
And now, it's on sale. You can purchase the one-of-a-kind property for $18 million.
The rectangular house was designed by Tomas Osinski and its current owner, Chris Hanley, a film producer who has worked on films like The Virgin Suicides, American Psycho, and Spring Breakers.
Its outsides are entirely covered with mirrors. The house's unusual feature ie the mirrors cause it to reflect the surrounding panoramic scenery and seem to disappear, giving rise to its name.
Once inside, the distinction between inside and out is further blurred by the large floor-to-ceiling windows.
The unique building faces west and is cantilevered roughly 100 feet in the air so that those inside may see the entire desert sunset.
A 100-foot pool within the Invisible House in Joshua Tree provides an unquestionably spectacular view of the surrounding desert from the living room.
The interior of the huge house has four bedrooms, three bathrooms, and a 222-square-foot projection wall in addition to the pool.
The property's listed agents from AKG, Christie's International Real Estate, Aaron Kirman and Matt Adamo, said in a statement: "Bringing the Invisible House to market for the first time ever is certainly a once-in-a-lifetime opportunity."
The mirror house is situated on 90 acres of land, which only serves to emphasize its presence in the otherwise completely undeveloped surroundings.
This is the largest privately owned piece of land surrounding Joshua Tree National Park, according to the property's website. A foam roof and solar panels are just two examples of the many eco-friendly features that can be found throughout the house which was built with the environment in mind.
As the listing agents added: "This architectural triumph located in the middle of the desert provides unique intangibles that can only be experienced at the property itself."