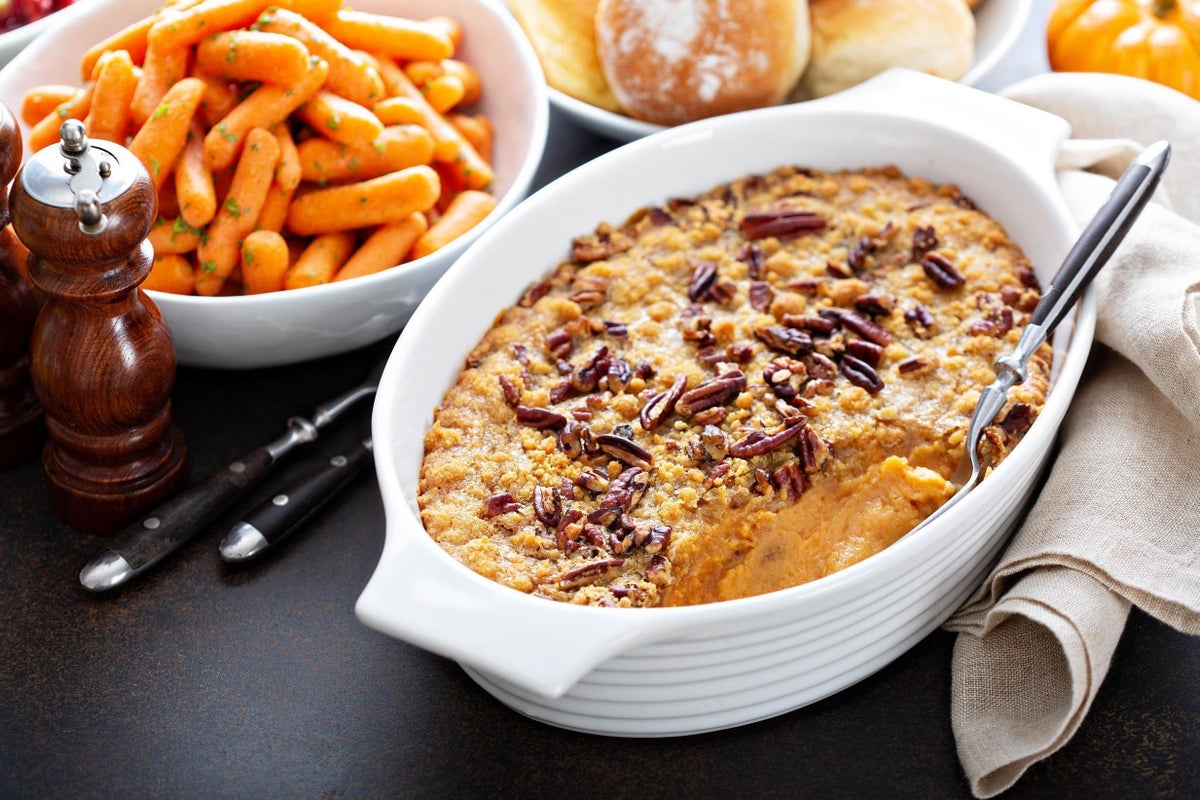 Food is one of the most important parts of the holidays – but that doesn't mean Christmas dinner has to center around a turkey or glazed ham.
Instead, vegan alternatives such as seitan and soy can be used to recreate or substitute classic Christmas favorites for a holiday meal that is both tasty and cruelty-free.
For Christmas-dinner inspiration, we spoke to Chloe Coscarelli, vegan chef and author of Chloe Flavour, who shared with us her favorite vegan holiday dishes and assured us that it is possible to make a plant-based holiday meal.
While it can seem intimidating at first, especially if you've never cooked a vegan meal before, Coscarelli recommends that you "follow your taste buds and be bold with experimenting".
"I create all my recipes using trial-and-error," she told us. "The key is to replace the animal-based ingredients you would traditionally use with vegan alternatives," such as plant-based milks.


Celebrity Vegans: From Beyoncé to Natalie Portman
Show all 13
"Stock your pantry with the basic vegan essentials, like almond milk (I love Califia Farms brand), tempeh, a fermented soy protein, and nutritional yeast flakes, which are great for making cheesy sauces," she advised.
For her own table, Coscarelli creates vegan meatloaf "with tons of fresh herbs, mushrooms, and whole grains," which she referred to as a "perfect vegan addition to your holiday table."
To get the right flavor, Coscarelli recommends using seitan, an "amazing" meat-free alternative made from cooked wheat gluten.
"It can be sliced ​​or crumbled and used in recipes in place of any type of meat," she told us, which means it can also replace a typical turkey dish. And the chewy texture but mild flavor makes it a perfect alternative because "it can soak up all the flavors of your sauce."
In addition to meat-alternative-based dishes, Coscarelli also has vegan side dish recipes fitting for Christmas — including apple cider Brussels sprouts, spiced applesauce cake, and holiday-spiced crème brulée, which calls for ingredients such as coconut milk and corn starch instead. of the typical heavy cream.
As for her go-to dish when she's asked to bring something over the holidays, Coscarelli relies on loafs of bread.


Creative vegan recipes from YouTubers – In pictures
Show all 15
"Bringing a loaf to people's homes is one of my favorite hostess gifts because it can be sliced ​​up for dessert or saved for breakfast the next morning," Coscarelli said.
Her favorite is pumpkin chocolate chip bread, which she shared the recipe for in her cookbook.
The rise in vegan Christmas dinner alternatives comes as more and more people are switching to a vegan lifestyle.
In the UK, Tesco's annual Christmas report revealed last year that one-fifth of hosts cater for vegan or vegetarian diets during the holidays.