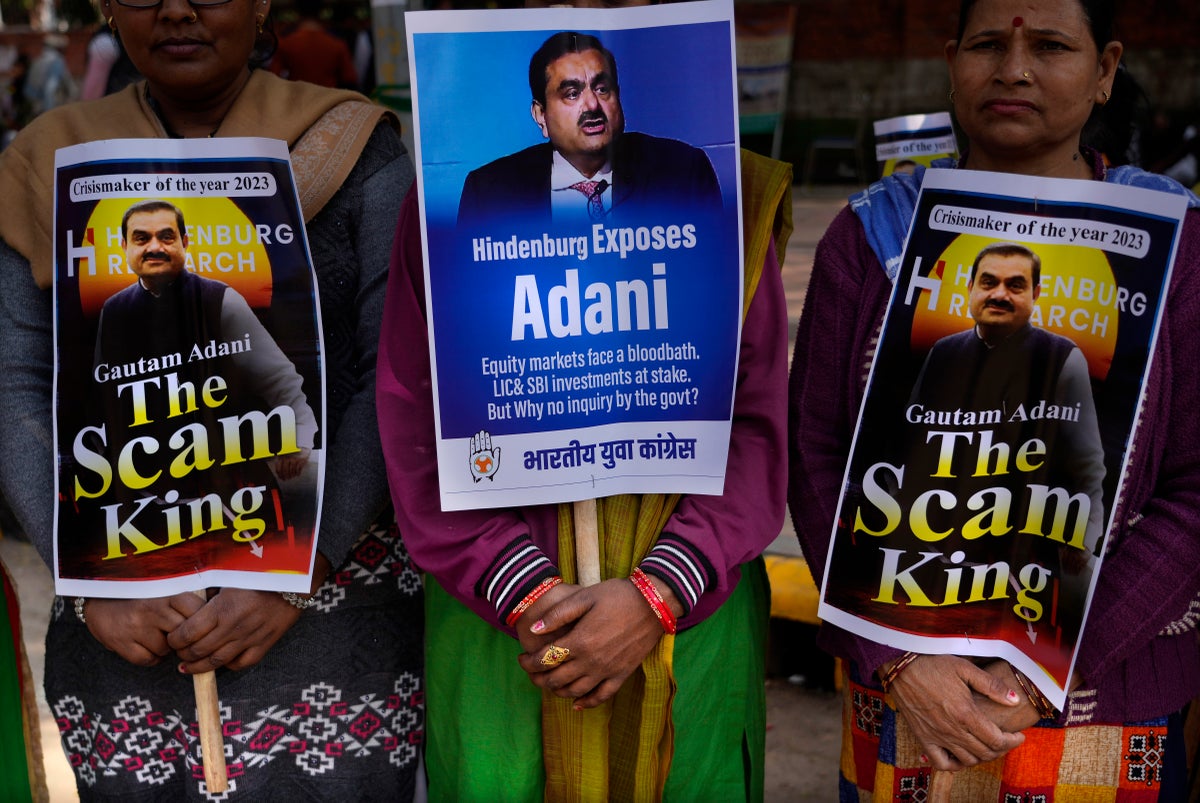 India's Supreme Court has proposed forming a panel of experts, including a judge, to investigate the fallout from fraud allegations against the Adani Group that have wiped off billions of dollars from businessman Gautam Adani's wealth.
Hearing a petition on Friday that called for the apex court's intervention in the row, India's chief justice DY Chandrachud said he would suggest forming an expert panel to look into it.
"We have suggested an expert committee for the overall situation and examination if the government of India is interested in this exercise," he said.
The chief justice also suggested including a judge among the experts, insisting that investor interests need to be protected.
The recommendation from the court comes amid rising calls to investigate the fraud allegations against one of the world's biggest conglomerates, as it sees its wealth deplete following a report by a US-based short seller.
The accusation against the conglomerate of inflating its stock prices by using shell companies by the Hindenburg group, a New York-based activist short seller, has wiped out significant investor wealth and raised questions about the tycoon's meteoric rise and the role of regulators.
Meanwhile, the Securities and Exchange Board of India (SEBI) is looking at the issue from a regulatory perspective, while the Adani Group denies any wrongdoing.
Responding to comments by the Supreme Court regarding the need for investor protection, Finance Minister of India Nirmala Sitharaman noted that Indian regulators are aware of the situation and are working to protect investor interests.
The regulators were experienced and seized of the matter, Ms Sitharaman told reporters after meeting the central bank's directors in Delhi on Saturday.
She declined to elaborate on what the government planned to tell the Supreme Court.
The group's seven companies lost more than $100bn in market value and Mr Adani, who briefly surpassed Jeff Bezos to become the world's second richest person last year, dropped down on Forbes' list of billionaires and was overtaken by rival Mukesh Ambani as the richest Indian.
The Gujarat-based billionaire's meteoric rise in the last decade has often been seen in connection with his close ties to Prime Minister Narendra Modi.
Meanwhile, three Adani group companies have pledged shares for lenders to the Indian conglomerate's flagship Adani Enterprises, which pulled a $2.5bn share sale during a recent market rout.
SBICAP Trustee said it had received the pledges in its capacity as "security trustee" of the lenders of Adani Enterprises.
The Adani exposure of Indian banks is not enough to affect their credit profiles, two global rating agencies have said. However, there are concerns over the impact the fallout can have on Indian public sector companies that have significant exposure to the company.