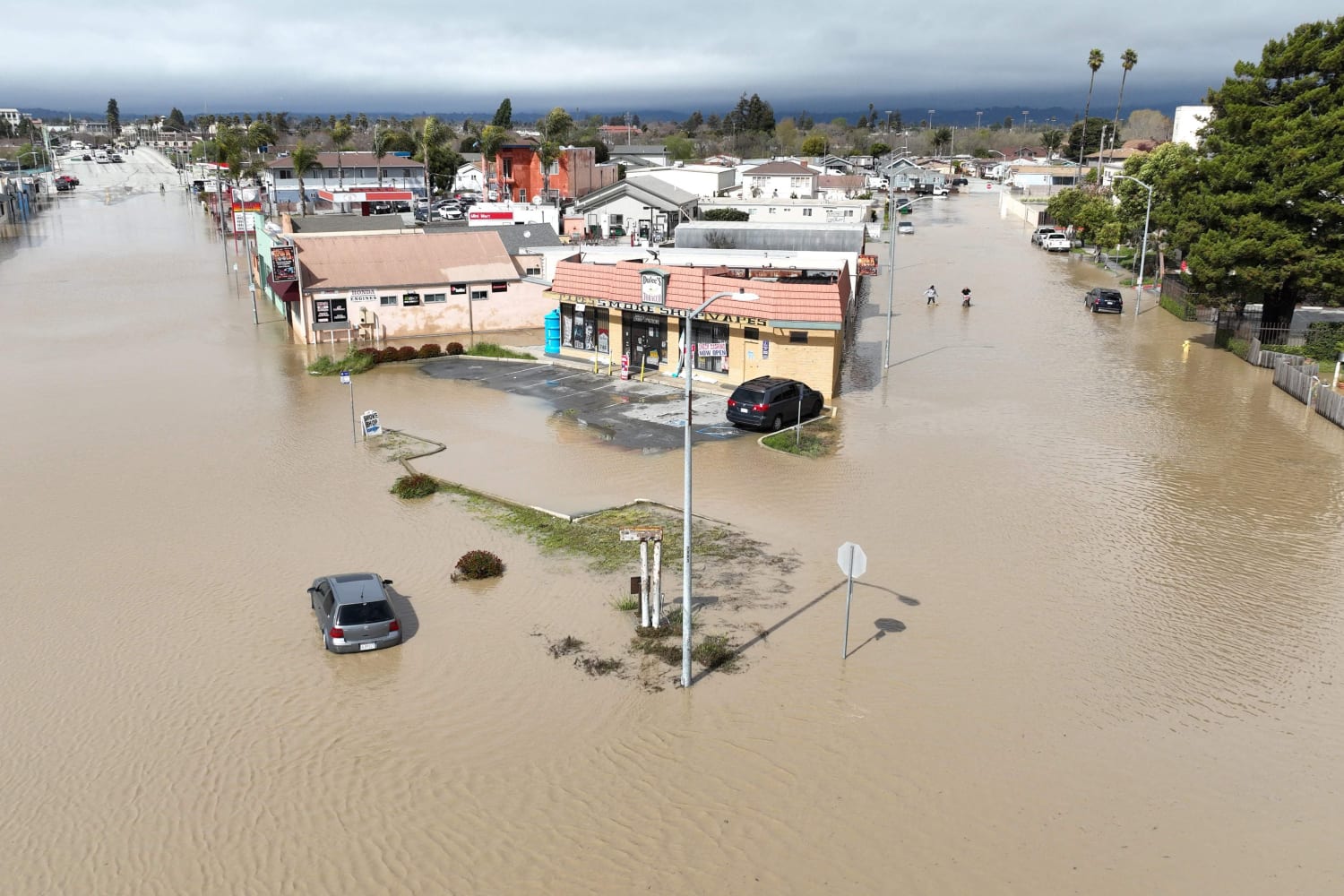 The latest round of severe weather follows major flooding and severe winds over the weekend.
The National Weather Service in Sacramento on Monday confirmed a tornado touched down in the area of ​​Tuttletown, about 50 miles west of Yosemite National Park, Saturday. Forecasters said it was an EF-1 vortex, meaning it had sustained winds of at least 79 mph. It was accompanied by severe thunderstorms and hail, the weather service said.
More than 200 people in the lowlands north of Salinas have been rescued by first responders, including members of the California National Guard, authorities said at a news conference Monday.
One video showed a member of the Guard helping a driver out of a car trapped by water.
Monterey County, a national agricultural center, was hit hard by the weekend storm, with an estimated 2,000 residents of the town of Pajaro under evacuation orders after a 300-foot breach in an adjacent river levee started opening up early Saturday, officials sad.
A second, smaller breach near the mouth of the river was reported Monday, said Maia Carroll, spokeswoman for Monterey County. Officials believe this one may be beneficial.
"The water is flowing to the ocean and relieving upstream flooding," she said.
Much of the town of Pajaro was soaked in 1 to 3 feet of standing water, County Supervisor Luis Alejo said in an interview Saturday. Some who didn't evacuate are now trapped and were being told to stay put, officials said.
Federal forecasters estimated the next storm, due overnight, could bring as much as 7 inches of rain to parts of Monterey County.
In an interview Saturday, Alejo lamented the plight of migrant farm workers who have been left without shelter and, in some cases, without jobs.
"These are immigrants, the people who can least afford being hit with this," he said. "They have homes, personal property. Many in agriculture will be out of jobs for a while because of the extensive damage from the storms."
By Sunday, California Gov. Gavin Newsom had declared weather-related emergencies in 40 of the state's 58 counties, with President Joe Biden vowing over the weekend to send federal resources to storm-battered areas under a federal emergency declaration Friday.
State meteorologist Michael Anderson had no good news during a video news conference Monday, saying, "We're still moving water from the first event, while that second event comes to shore."
The incoming atmospheric river is stronger than the last, according to the Scripps Institution of Oceanography in San Diego, which rated its potency a 3 on a scale of 1 to 5 for Santa Cruz County, north of Pajaro. The weekend's storm was determined to have been a 1 on that scale, developed by Scripps' Center for Western Weather and Water Extremes.
Anderson piled on: As many as two more atmospheric rivers were on the horizon for March 19 to 22.
New England Storm
Meanwhile, a clipper system moving east through the lower Great Lakes was expected to bring light to moderate snowfall across the Great Lakes before reaching New England.
"Farther south, a wavy front is forecast to bring some severe thunderstorms across the Southeast through tonight," the weather service said Monday.
"This wave is forecast to interact with the clipper system moving across the Great Lakes and intensify rapidly into a potent nor'easter off the New England coast on Tuesday, bringing heavy wet snow inland and high winds with rain/snow near the coast."
download the NBC News app for your local weather and updates on the storm
Heavy snow rates of up to 2 inches per hour are possible, while strong winds from the nor'easter could make travel "dangerous to near impossible," the weather service warned. The severe weather conditions could also lead to outages and tree damage, it said.
Winds will also crank up, with wind gusts of 50 to 60 mph likely, especially right along the coast. This could result in blizzard conditions in some areas.
Higher elevation areas across the interior Northeast could see more than 12 inches of snow, it said. It further warned that some areas, including the Catskills in New York, the Berkshires in western Massachusetts and the southern Green Mountains in Vermont, could see localized higher snowfall amounts.
"Widespread minor coastal flooding may be possible Monday night through Wednesday as the low pressure deepens off the coast of New England with high winds most likely near Cape Cod later on Tuesday," the weather service said.
Massachusetts Gov. Maura Healey on Monday ordered most state employees under her purview not to report to work Tuesday in order to stay safe, stay off the roads, and avoid the possibility of needing rescue and medical attention from already burdened first responders.
Connecticut Gov. Ned Lamont activated the state's emergency operations center in anticipation of storm damage, transportation issues, and the possibility rescues or medical attention would result.
Prepping in New York
At a news conference Monday, New York Gov. Kathy Hochul said that the storm "could be deadly" and that it would bring "serious loss of power." She urged New Yorkers to spend Monday preparing for the storm and plan to stay home Tuesday.
"That's the No. 1 message — there's no reason in the world to have plans to be out tomorrow," she said.
New York will enter a state of emergency beginning at 8 p.m. Monday, Hochul said. The National Guard has been deployed throughout the state, she added.
The Albany area could see 1 to 2 inches of snow per hour. the National Weather Service of Albany saidwith the governor's office adding that could amount to up to 3 feet by Wednesday morning.
New York City and Long Island could see up to 2 inches of snow and are expected to see heavy winds and rain, and the state's western and Finger Lakes regions could see 8 inches or more of snow by Wednesday, according to the governor's office.
Power company PSEG Long Island said in a statement that it was preparing for potential outages that could be caused by high winds of up to 48 mph that could pull down wires. Con Edison, which serves New York City and Westchester, said monday afternoon it is "securing extra crews and mobilizing for the winter storm."
New Jersey Gov. Phil Murphy on Monday declared a state of emergency in five counties — Bergen, Morris, Passaic, Sussex and Warren — ahead of the storm's impacts.
On Wednesday, the system will move away from the coast, with morning snow lingering along coastal New England. Winds will remain strong all day in much of the Northeast.